Happy 2010, everyone! Hope the first few weeks have shown a lot of improvement over last year.
The New Year's Eve party held at this old house went off pretty well. I always forget to snap pictures of the people, but at least I have blurry cell phone evidence of just how much we cooked:
And drank?
Missing from these pictures: the giant punch bowl of egg nog, even more spiced nuts, vanilla roasted pears, a veggie platter with homemade dip, and the crazy cannibal gingerbread cookies a guest brought with her.
As a side effect of actually having edible material in the house, I've now attracted a mouse. Those of you who follow me on Twitter probably know about my ongoing struggle to catch this fuzzy gray thing. But enough about that! On to some new projects.
The first major goal I'd like to accomplish in 2010 is to pull off some eye-catching DIY shelving for one wall of the living room. I've been inspired by Morgan of The Brick House, who is running her own awesome and very thrifty home improvement blog. She spotted some shelving in a hotel made completely of plumbing materials and wood planks, which she adapted for her own home.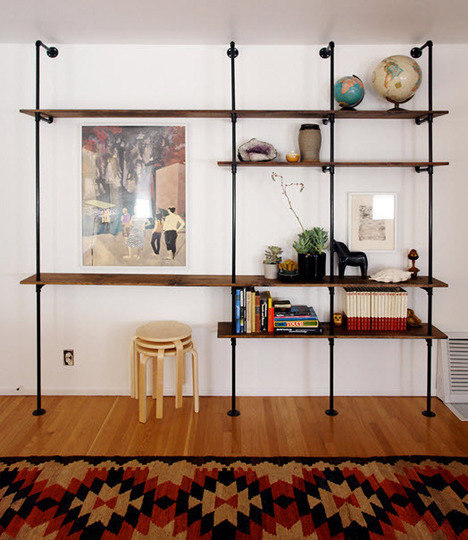 The Brick House shelving unit.
Morgan researching the Ace Hotel's shelves.
Since then, I've seen a few other adaptations of the idea spring up:
From Apartment Therapy.
Is this not the best way to create your own customized shelving? A whole wall like Morgan's cost only $200. I think I'm going to scale it down a bit for this wall in my house:
(Old picture alert. God, was my house ever that bright? I miss summer.)
Now that I no longer have a fish (boo), and since my Ikea bookshelf is just a piece of crap anyway (double boo), why not put that wall to use? If things go well, I'm hoping to incorporate a home for a brand new pet into my design. But nothing is going to happen until February. I've vowed not to overspend any of my budgets this month.
Stay tuned…