This is not a back yard update. Although unlike in years past I have not given up. Oh no. Things are happening! Things involving concrete and fencing and hammers. Things that are making me happy.
No, this post is to commemorate a special occasion.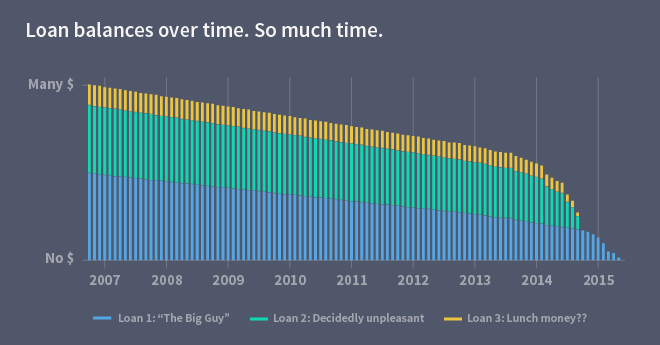 That's right! Yesterday — 10 days before my 31st birthday — I finally finished paying for college.
I had been chugging along for many years, rounding up my monthly minimum payment to the nearest $50 and telling myself that the extra couple bucks would speed the process up. It didn't really matter how true this was — I didn't have the resources to do much of anything else. But as the years rolled on, I started to land better jobs, and some freelance clients, and finally one day in the summer of 2013 I had a conversation with a good friend who was tackling her loans pretty aggressively. "Should I be doing the same?" I wondered. "How long will this take me if I don't double down?"
Well…

And that settled it. I was not waiting for TWENTY TWENTY-FOUR to roll around.
I have a lot of feelings about student loan debt. I feel proud, but also very lucky — lucky to have supportive parents, lucky my car didn't die in the last few years, lucky to have found work in a creative field, lucky to have avoided massive unforseen medical expenses. Lucky to have been born when I was, and not right now, because I do not know what this chart will look like for kids attending college in 2033.
Because when you're 18, you never see this chart. When I decided as a freshman in college that I hated my affordable, state-sponsored school, and I would "figure out" how to pay for private school*, I did not visualized this chart. I did not see myself at 30, still paying for classes I took as a teenager.
So I suppose that's why I'm posting it. This post is part congratulatory, part cautionary, and part appreciatory. You can survive private art school. But it's hard. And you'd better make a couple of friends who can light a fire under your butt afterwards.
*My parents still paid for a lot of the last 3 school years. Real talk. My debt could have been twice as bad. Thanks, you two.