Well, it's happened again: I've squandered another perfectly good year living in the little house way, way north of all the trendy neighborhoods you've heard of.
(Oh, house. I don't really mean that.)
At some point during this year of — I'm going to disinfect it and package it up neatly and label it "change" — I fell in love with this quirky place in which I live. Part of it is just exposure; I've been home more this year than I ever have before. Part of it is progress; for the first time every room in the house is functioning (which I concede is different from being finished, but still).
Part of it is that, during this year in which loneliness has had such an exasperatingly persistent grip on me, I've had more company than ever. Old friends, new friends, friends I hadn't seen in years all dropped by and toured the house. And it's been fascinating to hear their thoughts on the place — from the baffling "It looks as though no one lives here" to the somewhat-true "You have kind of a death thing going on in here, don't you?" to the coveted "I would buy this" to the pleasantly surprising "I think you've been talking this place down. It's way nicer than you let on."
Thanks for visiting, everyone. I've enjoyed sharing my home with you. And for those who haven't made it to the funny house in that neighborhood north of everything, here's my yearly visual tour.
Kitchen:
I always start here, although nothing much changes anymore. There's a new faucet, of course.
Through a complicated family situation, I somehow inherited an entire set of Le Cresuet cookware this year. I know. I know. They're amazing.
Dining room:
The liquor assortment has expanded again, which is good. Lack of a rug is still bad.
Let's hop upstairs for a bit. You've seen the office recently, so no need to rehash that: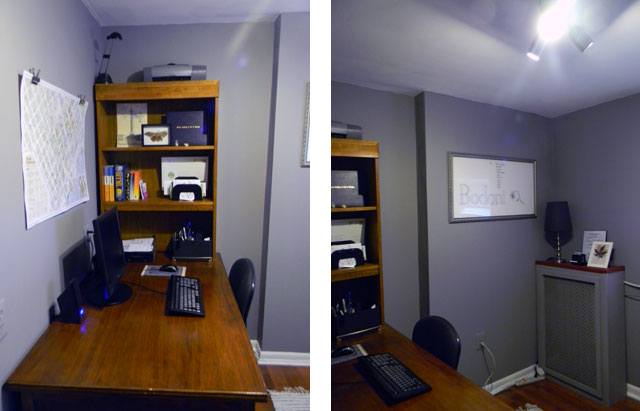 I'm sitting at that desk right now. It is already considerably less tidy. Somewhere behind me is a bookshelf, but you know this.
And you've seen a bit of the craft room, too: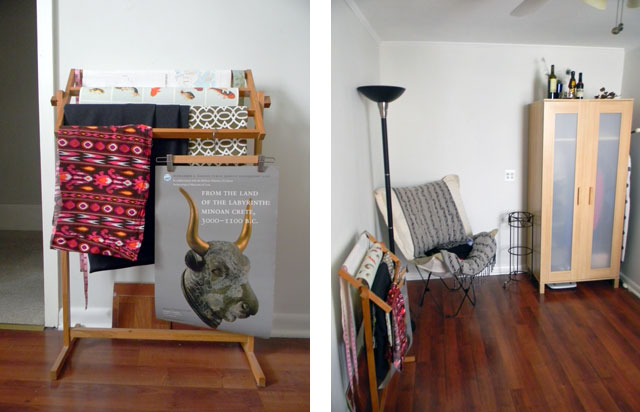 Also needs a rug. So expensive.
The bathroom:
I've done the least in this room. I think the only thing that changed this year is that I added the plant and managed not to neglect it. Low-light plants are this house's friend.
The bedroom:
A year an a half removed from the long, tedious, expensive process of renovating this room fully, and I'm so, so glad I (well, we — this was a team effort) did it. It was worth every dollar. Whenever I come home tired, cranky, sweaty and thirsty, collapsing here immediately puts me at ease. If I anticipate a long day, I'll often make the bed, turn a corner of the sheets down, leave a glass of water by the bedside table and a nightlight on. And when I come home, I feel…cared for. Caring for yourself is important.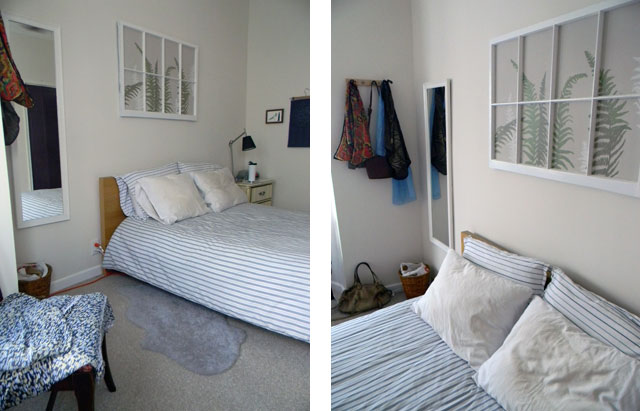 That grey fuzzy sheepskin finally went on sale at IKEA. I was so excited I almost bought two.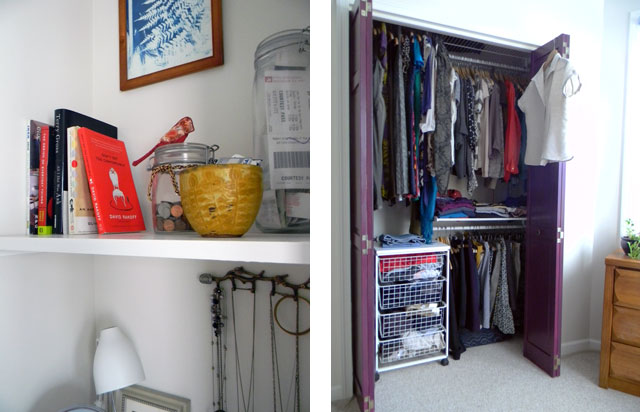 I continue to thrift All The Clothes.
And now my favorite room, the room that makes me smile every time I turn the key in the front door:
I hope to do a time-lapse animation of the living room over the past four years. The change continues to astound me. And I did most of the work.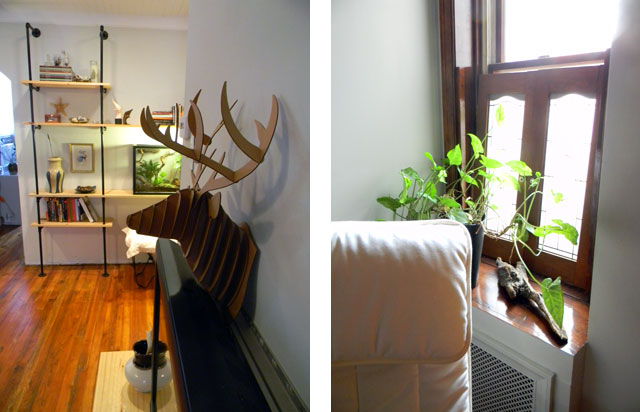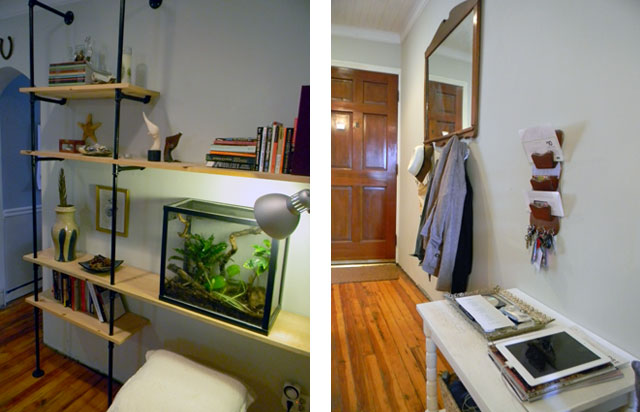 Pipe shelving unit: still holding up. Gecko: still hiding from the daylight.
Probably time to get rid of the birthday balloons…?
Art: still collecting.
So that's everything! House, I'm proud of how far we've come together. Thank you for being a comforting place for me, and for not throwing any major curve balls this year. Everyone else: come visit and we'll mix drinks sometime?