Ohhhhh, dining room…
And dining room window, where curtains from my first dorm room are still in active use. Like that pair of too-short pants hanging around in your closet that you know you should get rid of, but dammit your paid money for those. Seven years ago.
It was time for the curtains to go. This pair was an awkward size for the window, but I've found that curtains in general don't seem to play well in my little, sunlight challenged house. I've committed to the minimalist solution and am installing simple white IKEA ENJE blinds instead.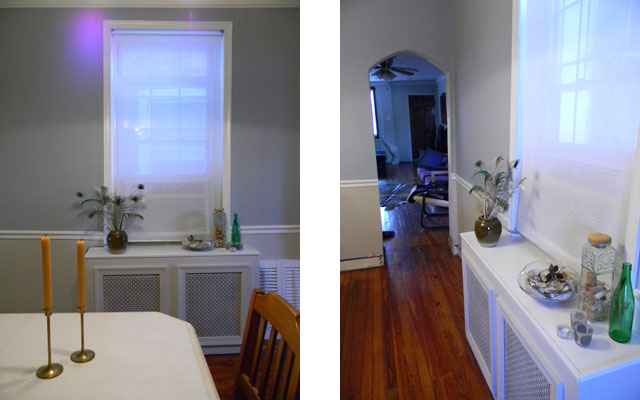 No bulk, no clutter, just a little diffuse light. And if you walk by quickly enough, you can pretend that the hideous air conditioner — and the battalion of angry pigeons currently occupying the breezeway behind it — isn't even there.
At $20-to-$40-ish per blind, I haven't managed to march into IKEA and buy as many as I need. Instead, I've been picking up a blind or two whenever I happen to be there. So expect to see window posts for another 6 months. Yay?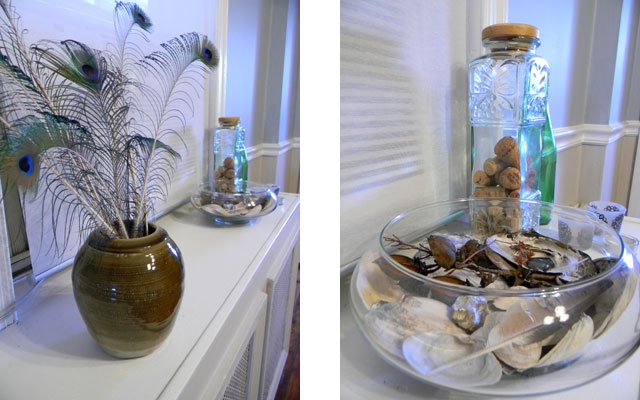 Hey, a girl has to reserve a little money to build her collection of shiny objects! On the left, it's my new $10 piece of student pottery purchased from UPenn's semi-annual ceramics program fundraiser (<3). On the right, my bowl of Jersey shore seashells finally found a home! Next to the…half-full jar of wine corks!*
Half-full? Pshaw. I can do better than this. I'm off to "work on decorating the house." Enjoy the rest of your weekend, everyone!
*I don't know, I probably saw it on Pinterest. Is it too silly?
P.S. Does anyone want those curtains? I'm popping them in the washing machine and when they're done I will gladly throw them in a box and send them to you for postage money. Fair warning: they do have a really subtle floral pattern.