October has been a whirlwind of wedding cakes, presents, costumes, and freaky weather events for me, but there are a few house changes worth documenting.  So let's get to it!
I mentioned earlier that a bit of my cornice came apart during August's freaky weather.
Check it out — it took all of a week before a pigeon made itself right at home in my freaking roof:
UGH.  SCRAM.
Anyway.  I thought it was just wind damage and would be a quick fix, but as fate would have it my roof was actually leaking at the very front edge of the house, which had caused a big chunk of the old cornice to rot away.  So the best (and more expensive — sad trombone) solution was actually to build a whole new cornice.  The contractors banged it out for me, and here's the before and after:
This is not thrilling stuff, but along with the basement plumbing (which is also fixed — I'm sparing you photographs) it was a repair that had to get done even if it didn't amount to much of an aesthetic upgrade.  Although the white is nice, I suppose.  Anything's better than those shingles!
I did try to make a minor visual improvement in the living room over the weekend, specifically to this window that faces the street:
It had no blinds, no curtains — just a few frosted shutters.  I wanted to improve two things:  add a little more privacy, and make this dinky "picture" window look as wide as possible.  I didn't think those shutters were helping by dividing up the space, so they had to go.  I did like the way my ENJE roller shades from Ikea were working in my bedroom, though, so I decided to give them a shot here as well.
Unfortunately for me, in the last few months the old ENJE shades have been recalled and replaced with a new design that isn't as easy to hack.  Anna at Door Sixteen had a great tutorial for cutting the old pull-chain shades to a custom width.  But Ikea has since ditched the chain and installed some kind of spring-loaded tension something-or-other in the top part.
I went ahead and hacked mine anyway, but I'm fairly sure I broke its rolling capability.  Or maybe not — I haven't done much testing because I figured from the start that I'd be leaving this shade down all the time.  So once I got the shade to the width and length I wanted, I stopped futzing with it.  Here it is: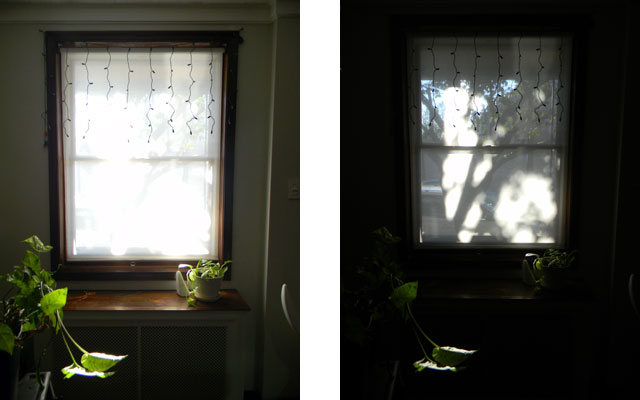 Excuse the dark shots; I was trying not to blow out all the detail in the shade by overexposing.
I definitely think this tiny change is an improvement.  It's especially nice now that night has fallen and I have a simple white screen over what used to feel like a creepy black hole in the wall.  I have 3 more downstairs windows to go — here's hoping my hacking skills improve.  Or that I can find some of the old strangler shades on eBay….